Enroll your society


Society Login


Enroll your society

Fresh and Delicious Food Made by Chefs in your Society. Order it Quick!


In the mood for some delicious food but you don't want to be the one cooking it? We feel you. Now, with the Home Chef option on NoBrokerHood, you can order fresh, and delicious food cooked by home chefs in your building society. So, if you're craving for 'ghar ka khanna' or something a little more exotic, just look at what these talented chefs are cooking for the day. Here's what you need to do – 
Logon to the NoBrokerHood App
Go to the Home Chef feature  
If you're in the mood to order food, look at 'I'm a Foodie' and click on 'Order Food'
Check out all the options available in your building society.
5. You can see the chef's name, apartment number, the dishes they have made for the day, a description of the dish, and how much it costs. 
6. The important things to look for are – 
When to order before 
Delivery time 
If you need to pick-up the dish or if it is delivered to you
7. Use the filter options on the top of the page to help you narrow down your search. You can choose from Veg. , Non-Veg or All. 
8. Found what you were looking for? Just click on 'Add+' 
9. Choose a time when you wan to pick-up/receive the food. And click 'Confirm Slot'
10. You can choose more dishes or click on 'Proceed' at the bottom of the page to confirm your order.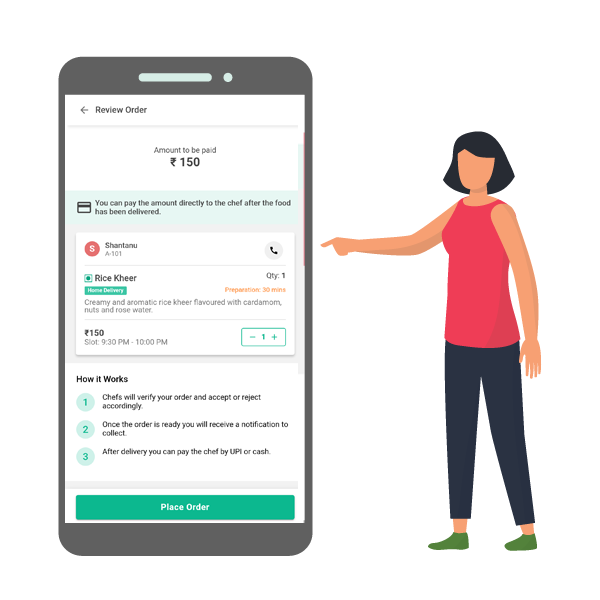 11. If you have any special requests or need to give the chef some information about how you want the food (less salt, more spice, any ingredient you're allergic to) you can call or message them after confirming your order. 
12. You will be notified when the order is ready and when it can be picked up or when it will be delivered. 
13. To check the status of your order, or contact the chef at any time, you can go to –> 'Food by Home Chefs' -> 'Order Food' -> 'My Orders' (at the top right corner of the page)
The whole process won't take you more than a few minutes! You can enjoy a hot delicious meal or a lovely cool desert in the comfort of your home, without worrying who made it, germs from outside and quality of the food you get. 
If you are inspired and wish to cook something to share with your society, you can do that too! All the information you need is here. Drop us a comment below to let us know how much you love this feature.
 Visit https://www.nobrokerhood.com/ for more information on our other exciting features.