Enroll your society


Society Login


Enroll your society

Who's visiting you? Keep track via NoBrokerHood's 'Invite Guest' feature

Say goodbye to the old-school register entry of guest at the main gate! Take control of who's visiting you through NoBrokerHood's 'Invite Guest' feature.  
All you need to do is to send invitation to your friends and loved ones through the NoBrokerHood app; they will receive a 6-digit passcode, which will be required at the gate when they arrive.
What if the invited guest walks-in with a plus one?
The passcode is unique to every guest and can be used by one person per entry. This is to ensure easy access at the gate. If a guest walks-in with a plus one, they need to fill a form, confirming the same.
Here's how it works
On the NoBrokerHood app, tap 'Invite Guest' on the home screen.
Feed in details such as 'Name' of the guest and contact 'Number'. You can also add contacts directly from your phonebook.
You can add as many guests as you want by tapping 'Add More'.
Once you have fed in all the required details, tap 'Add Guest' located at the bottom.
Fill in other details such as date and day of visit and tap on 'Invite Guest'.
A unique 6-digit passcode will be generated. Share the code with your respective guests.
Once they arrive at the gate, this code, when shown, will ensure a hassle free entry.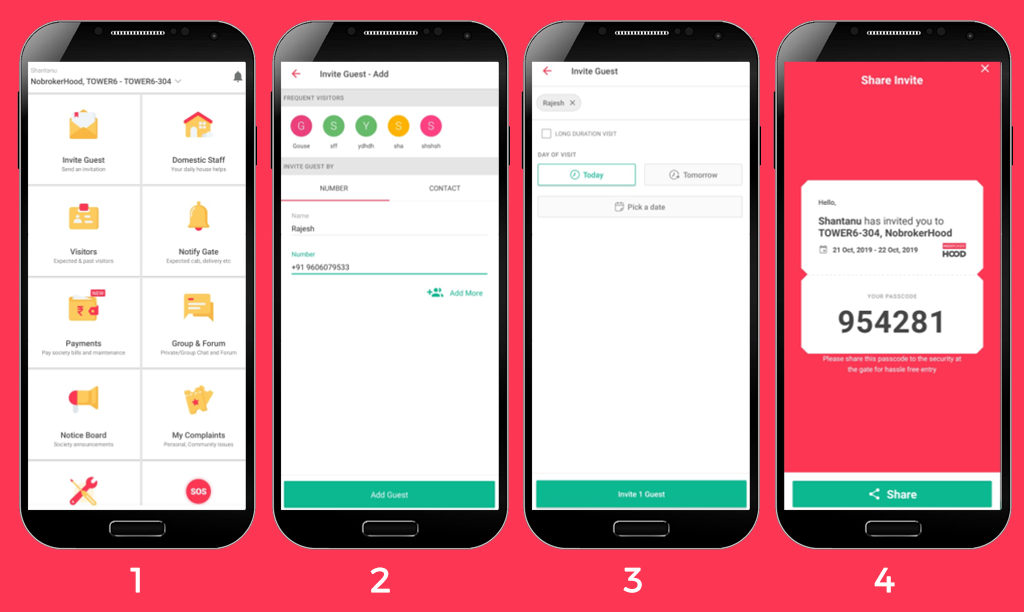 NoBrokerHood's 'Invite guest' feature is a modern and tech-oriented check-in process that spells nothing but security. Its user-friendly interface is extremely easy to understand and use.
Visit www.nobrokerhood.com or write to hello@nobrokerhood.com and 'Enroll your society' for a FREE demo NOW!