Enroll your society


Society Login


Enroll your society

Stay Safe with NoBrokerHood's Health Tracker for Residents

The spread of COVID-19 is rapid, it's in our state and even in our neighbourhood, for some of us, it is in our buildings and even in our homes.
To stop the spread, we need to be able to actively avoid coming in contact with the virus. The best ways to do that is to know the containment zones and active cases near you. Once you are armed with this critical information you will be able to stay safe for longer.
Why do I need a health tracker?
Unfortunately, we are seeing a new record being created every day with the number of corona cases on the rise. The un-lock, opening of borders, starting of commute between cities starting via train/flights, etc. are all causing the virus to spread rapidly.
There are 100's of containment zones coming up daily, and with our domestic staff like maids, and cooks, etc. coming back to work, it's becoming riskier for all of us. Keeping up with the new cases and new containment zones can be stressful, and a full-time job!
A health tracker will do all the work for you. You don't have to look up containment zones, or search for where the nearest zone is, the tracker will have all the information you need at your fingertips.
How is the NoBrokerHood Health Tracker for Residents different from other trackers?
The NoBrokerHood Health Tracker was made with the aim to provide all residents as much information about the spread of the virus as possible. This tracker will help each resident monitor the situation on the ground, see how close it is to their societies, and if any of their fellow residents are in quarantine. The most critical information – the status of the zones where your maids and staff reside is also provided.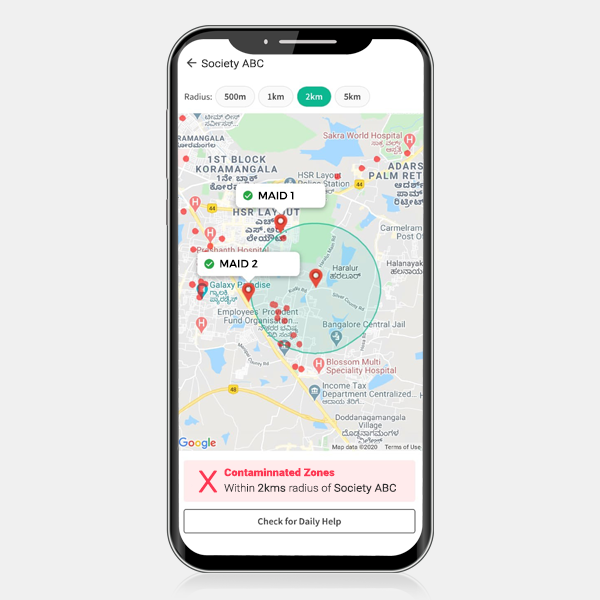 These are the key features of the NoBrokerHood Health Tracker for Residents:
A comprehensive summary screen, for societies to know the number of flats under quarantine and when quarantine ends (no personal information is shared).
A city summary, showing the number of new cases in last 24hrs, the number of active cases and the number of containment zones within 1km of your apartment.
An alert if your daily help/domestic staff's home is in a containment zone.
Map View to see containment zones (red dots). Each dot can be of 100m/200m depending on the containment zone definition by your local municipality.
Ability to see containment zones within 500mts, 1km, 2km or 5km of your apartment.
Get an accurate count of how many containment zones are in a (500 mts/1km/2km/5km) radius of your apartment.
You will get an automatic alert and your daily help/domestic staff will be marked safe or unsafe based on if their house falls under a containment zone.
This feature is easy to use and can help you stay safe during this pandemic. Try NoBrokerHood and check out the other features we have that can make your life in your building society safer and secure, not to forget, stress-free as well.