Enroll your society


Society Login


Enroll your society

Society complaints piling up? NoBrokerHood's 'Help Desk' is here to solve it all

Is the plumber still ignoring your calls? Are you still taking the staircase because the lift is out-of-service since the past week, or is your annoying neighbour still parking his bike in your spot despite repeated requests? If you stay in a gated community and face or notice any such society issue that needs immediate attention, you are at the right place!
While residents can take the help of the NoBrokerHood app to register their complaints, raise community and individual issues and get real-time notifications on their phone, for a management committee member, supervising resident complaints can be overwhelming at times. And we truly understand that. Therefore, we have made things easy for you.
Through the NoBrokerHood umbrella dashboard, you can now keep a track and monitor residents and apartment issues such as lift maintenance, electrical works, plumbing, parking issues and so on, more smoothly, ensuring quick response and resolutions. Not just this, you can also use the Auto-assignment feature to distribute different errands to task-specific technicians or facility managers.
NoBrokerHood has always believed in having an Interactive Complaint Management software, where residents can make a suggestion, report an issue and get a quick fix. This complaint management feature works on Automated Updates, which ensure residents receive activity updates in real-time, keeping them in the loop about the progress of their complaint.
Committee members, however, can use the reporting feature to track the performance of their staff individually. In cases of unresolved complaints, the Automatic Escalation Policies feature guarantees that those tickets are escalated for quicker resolutions. This, we believe, not only increases customer satisfaction but also their trust in the management committee.
Here's how it works
Log on to NoBrokerHood website; 
A committee member must sign-in through their society login (given at the time of installation) to access the society dashboard. 
Once you are on the dashboard, select 'Help Desk' from the left-side panel.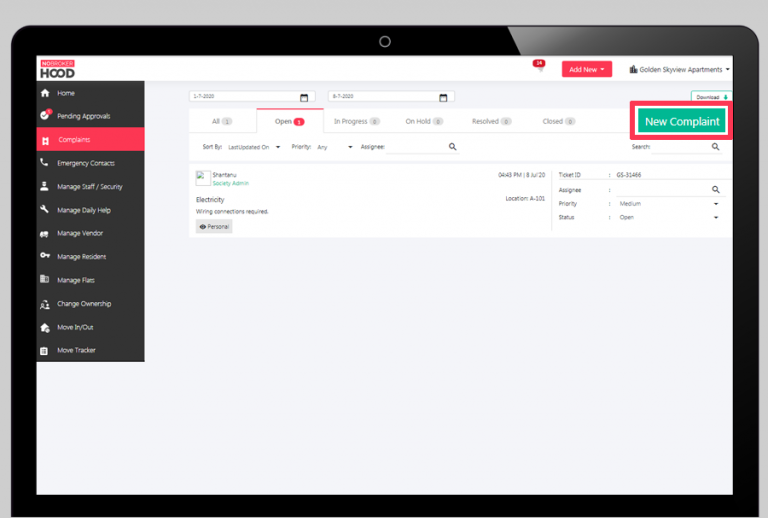 This will allow you to view all the grievances posted by residents. You can also monitor the number of complaints that are in progress, on hold and the ones that are resolved and closed.
If you wish to view complaints of the past months, you can do so by selecting the month and date from the calendar drop down on the above panel.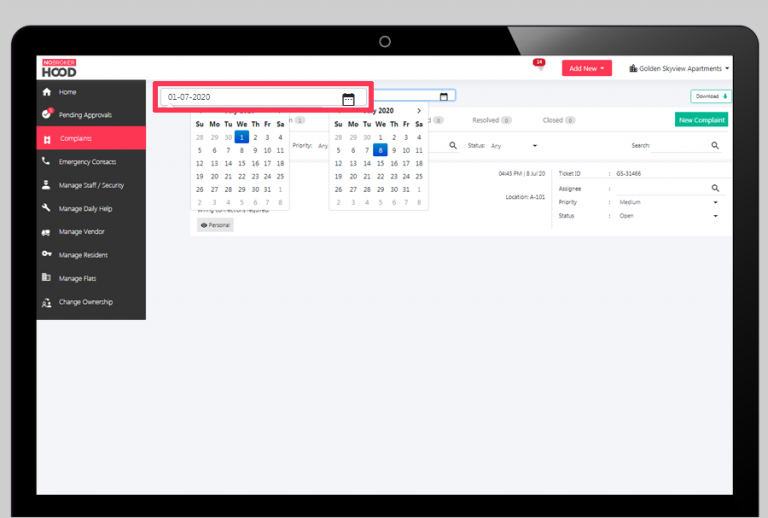 In case, you want to add a new issue that you might have noticed in your society, go to 'New Complaint' tab on the top right corner.
  
Log a new complaint by filling in details such as 'Complaint Category' – plumbing, lift, parking, etc, 'Issue Location' – flat, block or area and 'Priority' – medium, high or low.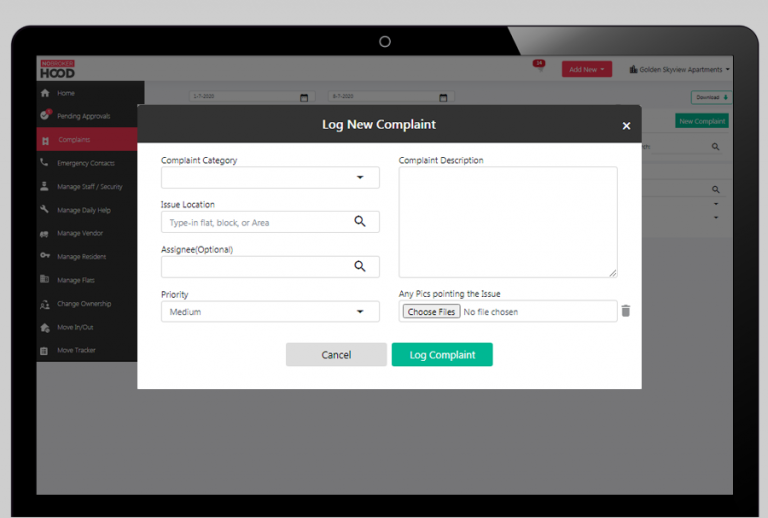 You can also describe the issue in detail in the 'Complaint Description' box provided and add images or documents, if any. 
Once you have provided the necessary details, click the 'Log Complaint' button. 
With NoBrokerHood's Help Desk feature, residents and committee members can now raise, report and solve apartment society issues from the comfort of their home.
In case you have any queries, reach out to us through the Request Assistance feature on the NoBrokerHood resident app.
You can read more about Request Assistance here.