Enroll your society


Society Login


Enroll your society

Keep your safety worries at bay with NoBrokerHood's 'SOS' button
One of the biggest concerns parents and family members have when you stay away from them is how safe is the place you live in? And we get it! Our loved ones always care about our safety, no matter how old we become. Just how we, at NoBrokerHood, have always emphasised – your safety is our topmost priority.
So be it for your society or for you when you are at home, we are constantly on the lookout to give you the best for your convenience, safety and security.
NoBrokerHood's safety features exercise exactly that. In case of any emergency, you got our back!
From alerting guards in your society to come to your rescue during any emergency situation with just a tap of a button to digitally tracking down uninvited outsider's entry into the compound, we make sure you live in a safer environment.
Here are a few safety measures we have in place for you:
For residents,
The in app SOS button is all you need to keep any emergency at bay. Be it medical, fire or gas leak, theft or lift emergency, tap on the SOS button to alert your building security guards immediately.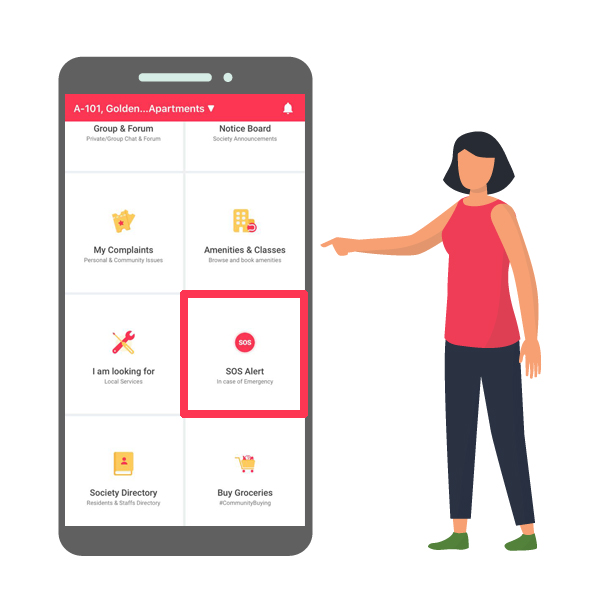 Here's how to raise an SOS alert?
On your NoBrokerHood app,
Scroll down on the home page to find the 'SOS Alert' button,
Tap it to send an alert.
Select the type of emergency you are facing. There are four different tiles; tap the one that best fits your situation.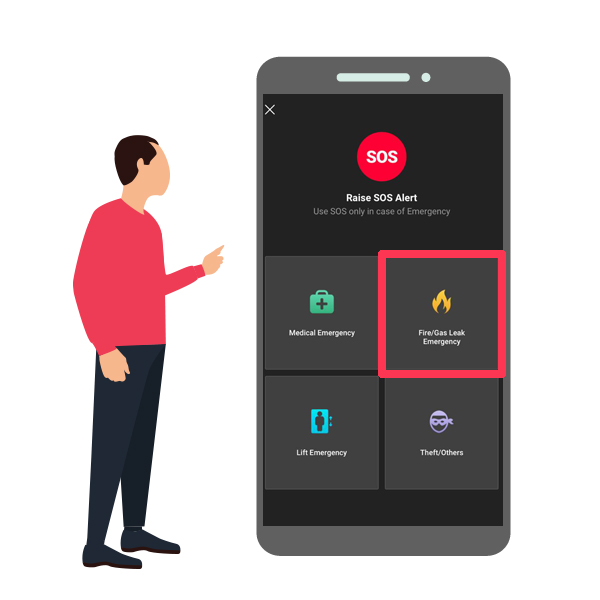 It takes 5 seconds to send out the SOS alert,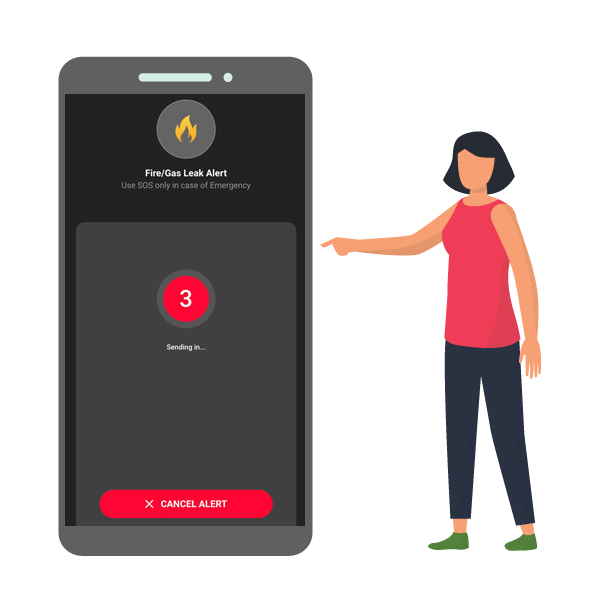 This button notifies all on-duty security guards and family members.
Use the 'SOS alert' only in case of an emergency.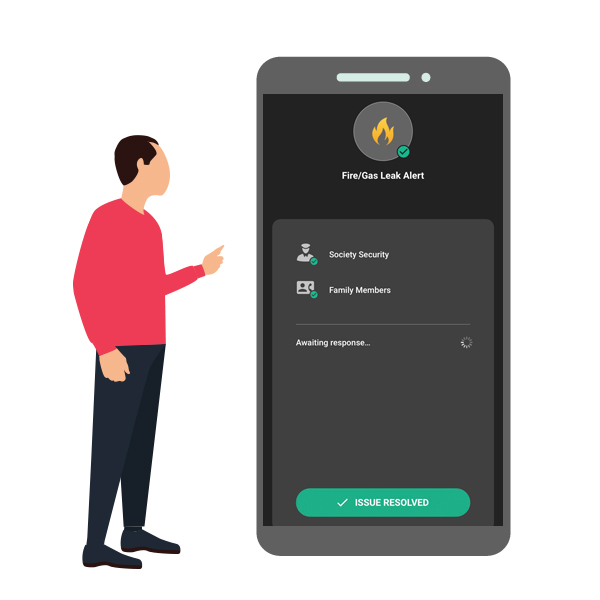 For committee members,
Just how you have been monitoring every activity in your society, you can also keep a track on every entry and exit, from the comfort of your home. You can be rest assured that with NoBrokerHood as your society management solution, there is no possibility that anyone can enter the society premises without being approved. You will be notified who, why and where a visitor is in the apartment complex.
Digital entries of all visitors
Every staff and vendors who are frequents in your apartment are enrolled on the app through documents and photos. Digital entry is an inevitable part for guests as well. This is done to keep an account of and track everyone who is stepping inside the community premises.
To track entry and exit of visitors,
Log on to NoBrokerHood website; 
Using the sign-in details, committee members can access the society dashboard,
Select 'In & Out Records' from the left-side panel.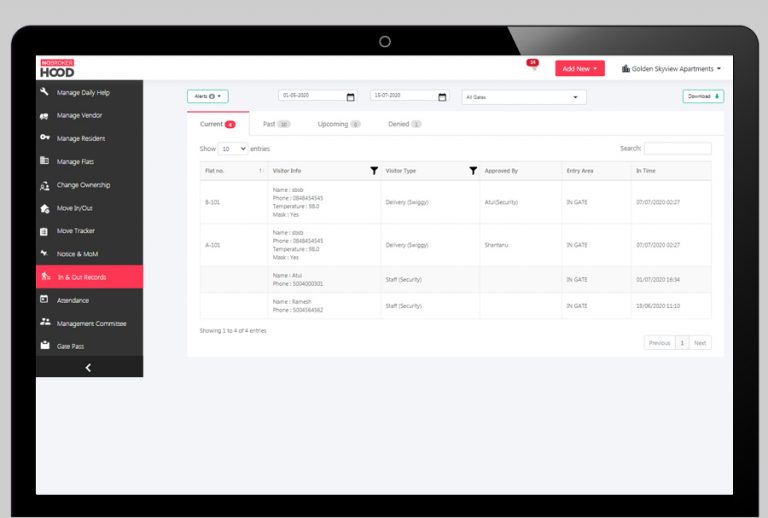 This will show you the record of everyone, from security staff, maids and cooks to delivery personnels, vendors, cabs and guests, who have entered the apartment premises at a given time.
You can change the calendar settings to view the past records as well.
The 'In & Out Records' tab also gives you details such as flat number, contact number of the visitor, temperature check, number of people accompanying them and whether the person was wearing mask. 
If you want to download a particular record, NoBrokerHood will send an OTP to the registered phone number or email id. This is done for audit purpose.
The options, 'Manage Staff/Security', 'Manage Daily Help' and 'Manage Vendor', on the left-side panel help you keep track of every frequent visitor. You, as a committee member can add or deactivate a service during any untoward situation.
To add a new service,
Click on 'Add New' on the top panel.
Select a service
Enter details like phone number, name, address, and type of service. Add a display picture, and upload an authorised ID proof.
Select 'Add' or 'Add & Approve' to include a new daily help or vendor.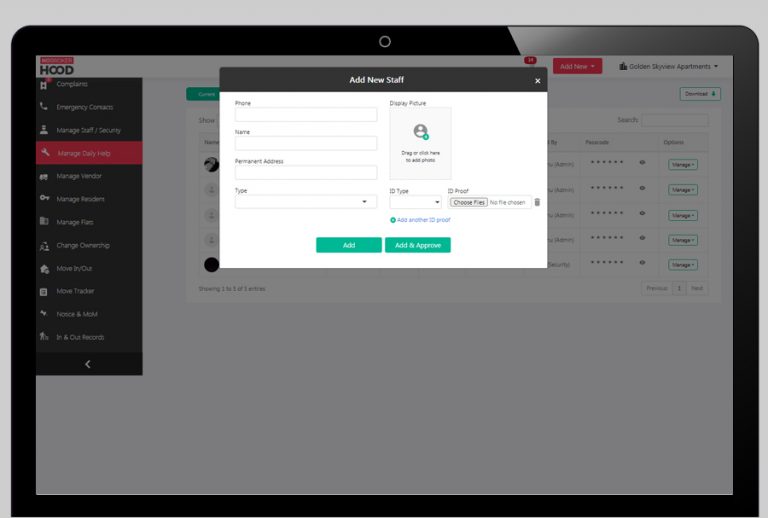 With NobrokerHood's end-to-end encrypted security features, let your worries take a backseat. While you monitor your society at your fingertip, we ensure, all is well, at the grassroots level.
Comment below to let us know how beneficial this feature is for you.
You can also visit our website, www.nobrokerhood.com, for a FREE demo, TODAY!