Enroll your society


Society Login


Enroll your society

Should You Wear A Mask Inside Your Gated Community?

Our fight with the COVID-19 pandemic is on, and so is getting used to personal protective equipment such as masks and gloves. While washing hands frequently with soap and water is the most common advice given by all, to keep the infection at bay, there are still many advisories floating around on the effective use of masks.
In the last few months, masks have become part of one's everyday attire. Of course, the general idea is that masks are mandatory in public places but what exactly does that mean? Does your apartment complex count as a public space?
Should one wear a mask inside an apartment building?
Dr Ravindra M Mehta, senior consultant and HOD – Pulmonology & Interventional Pulmonology, Apollo Speciality Hospitals, Jayanagar, says that social distancing is the key even in apartment complexes.
"A mask reduces the chances of transmission of infection to and from someone else. If in a gated community, there are only few people walking around, maintaining safe social distance (6 feet), then masks are not mandatory. However, since any kind of human interaction doesn't guarantee that residents of a gated community won't come close while talking or interacting with each other, it is wise to wear mask," he says.
Moreover, there are many common areas that are used by residents of an apartment complex or society building. There is a high level of interaction as well as unintentional touching of surfaces. So, it is better to wear a mask and take precautionary measure.
Who should be wearing masks more often?
Anyone who is in a place where social distancing is not possible or are going into any congregating place must wear a mask. However, Dr Mehta says that if you are going for a walk on an empty society compound or street, mask is not mandatory.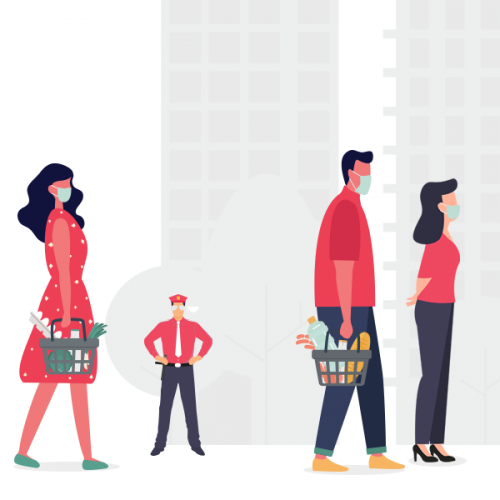 Is it safe to wear a mask continuously?
Breathability is an important factor to keep in mind while using a mask. Dr. Mehta recommends avoiding masks that are too tight because they can be uncomfortable and are medically not recommended. Instead, opt for a reasonably fitted reusable cloth mask. It is about adjustment rather than a health issue.
Tips and tricks to wear/handle a mask the right way
Opt for reusable cloth masks rather than an N95 or surgical mask.
Have at least three masks and make sure to wash with simple soap and water and dry it under the sun after every use.
Avoid touching your face at all time.
Sanitise your hands before wearing a mask and after removing it.
If you are using a surgical mask, make sure to dispose it the right way.
The fitting of the mask should be such that it is a comfortable fit and not very tight or very loose. Make sure the loops going behind the ears are comfortable. Tight loops that pinch the ear cannot be worn for a very long time.
Use multi-layer mask for better protection.
Make sure that the mask is covering the nose and the mouth completely.
Avoid hanging the mask around the neck or pushing it under the nose. Doing so only defeats the purpose.
While your gated community might take all the necessary health precautions, it is always about maintaining personal hygiene. Keep a safe distance from your neighbours, keep a mask handy when you are stepping out to take a walk in the compound and limit your visit to common areas like the club house, gym or play area.
Drop us a comment below, or visit NoBrokerHood for more ways on how you can keep your building society safe.