Enroll your society


Society Login


Enroll your society

It's Time Your Building Society Got A Security Upgrade
NoBrokerHood's New Launch – TouchlessEntry

At NoBrokerHood we're constantly looking for ways to enhance the safety, security, and convenience of residents in building societies. We use the latest technology and adapt it to give each resident, the building committee, and guards, a truly smart, intuitive, and seamless experience using the NoBrokerHood app. Keeping in line with this, we're launching a new feature – TouchlessEntry.
Why TouchlessEntry?

We noticed that the entries and attendance done for domestic help, and service staff, was done through two methods – Passcodes and Fingerprint scans (biometric). When you use the passcode method to monitor entry, there is a possibility that others can gain entry by proxy. They could use someone else's passcode and enter your building society; serious crimes could occur, and you might not be able to trace the criminal at all. To fix this issue, fingerprint scanning was introduced. This method is fool-proof and eliminates the possibility of proxy entries. But, when COVID-19 is causing chaos, we wanted to find a way to eliminate touch, without diminishing security.
The solution to this is – TouchlessEntry. This technology was built completely inhouse. We used face recognition to allow only those domestic helpers and service staff that have been approved by the society to enter.
How does TouchlessEntry work?
TouchlessEntry starts with Face Capture, here your 'Daily Help' or servicemen must be added to the app. Once the general information is noted on the app, you click on 'Face Capture'. Here, 3 scans are taken of the person's face – Left, Right and Centre. This is a one-time process that takes not more than 30 seconds.
Once the individual is added, then next time they enter they will just have to face the guard's mobile phone camera for a millisecond. TouchlessEntry works extremely fast and can process 5 faces in less than a second! Once the scan is done, their entry will be approved.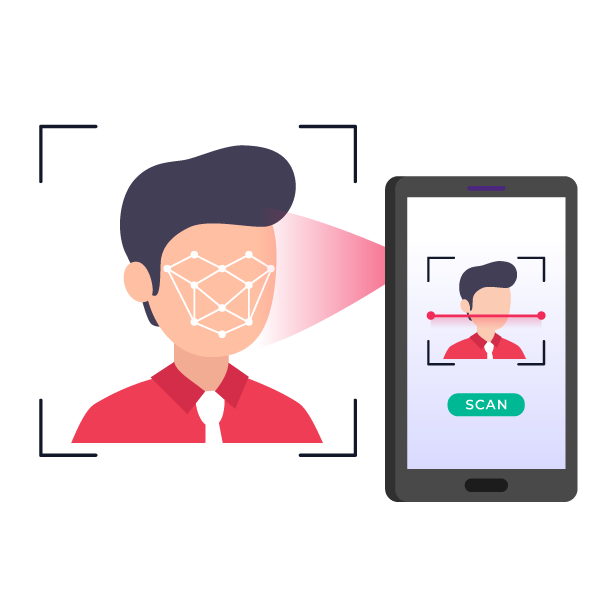 Is it safe, and what happens to this data?
Yes, all your information including face scans are 100% safe and secure. This was made inhouse, and we centred it around our user's security. It is not a third-party application which means, it's completely made in India, by us, and data is not shared ANYWHERE or with ANYONE. 
The face scanning and processing happens on the guard app in the device itself. Very minimal information is transferred and exchanged to the backend. The information saved is an encrypted representation of a face, and NOT an image of a face. There is no way to recreate a face using this high-level encrypted information. TouchlessEntry works lightning fast (in milliseconds) because of on-device processing.
When can I start using TouchlessEntry?
The good news is if you already have NoBrokerHood you can request a trial of this feature today! For a limited time only, we are rolling it out to a few select societies for FREE. If you want to try it just sign up for NoBrokerHood and you too might get to try it for FREE.
Drop us a comment below or visit NoBrokerHood for more details on this or any other of our features.