Enroll your society


Society Login


Enroll your society

Get the answers you need through polls on NoBrokerHood!

When you make plans with a big group, the easiest way to come to a decision is through a poll. We do it with our friends and family, and now we can do it with our neighbours too! NoBrokerHood's new polling feature helps you as a resident and even a Committee Member reach a clear consensus about anything you have questions about.
How to start a Poll
Go to the 'Group, Forum and Poll' tab on NoBrokerHood, decide on what you would like to take a poll on and start polling! All you need to do is –
Have a clear question
Write a short description, something that helps to add clarity to the question
Provide options for people to choose from
Decide if you want to let people choose multiple options or just one option.
Set an end date
It's that simple, there are more thing you can control like can voters see what the most popular option is after voting i.e. 78% of votes have been registered for option B vs. option A. You can have this hidden and show results only when the poll closes.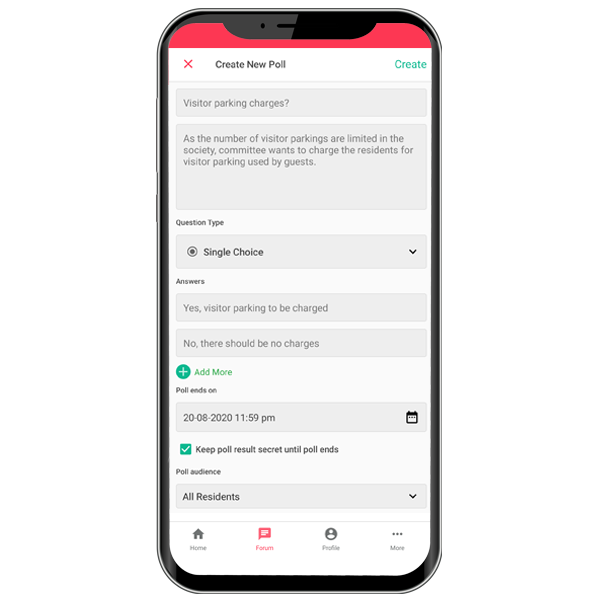 What can you use the poll feature for?
Anyone can use the poll feature; you don't have to be a committee member to start a poll. Residents can also start polls, for example –
Question – Which neighbourhood play school would you recommend?
Description – There are 4 great playschools nearby, which is the best amongst them, looking for a safe, fun school for my 3-year old.  
Options –
Kidzee
Maple Bear
Euro Kids
Little Elly
Based on the poll results, you'll be able to get your answer, instead of seeking out people and asking them individually, this takes a few seconds, and gives you more accurate results.
For committee members, polls are very helpful when it comes to deciding important things in the society, for example –
Question – Which day is best to clean the water tank?
Description – The water tanks are due for cleaning, during this process, some houses will face a water shortage for 2 hours while the cleaning is happening.
Options–
Weekday 7:00 a.m to 9:00 a.m
Weekend 7:00 a.m to 9:00 a.m
Weekday 3:00 p.m to 5:00 p.m
Weekend 3:00 p.m to 5:00 p.m
The picture below shows another example of a poll that committee members can create. These polls are short and give you a clear answer. When the poll closes, you'll have an answer and you won't have to worry about inconveniencing any of your residents. The residents also feel heard and that their opinion was taken into consideration before making a decision.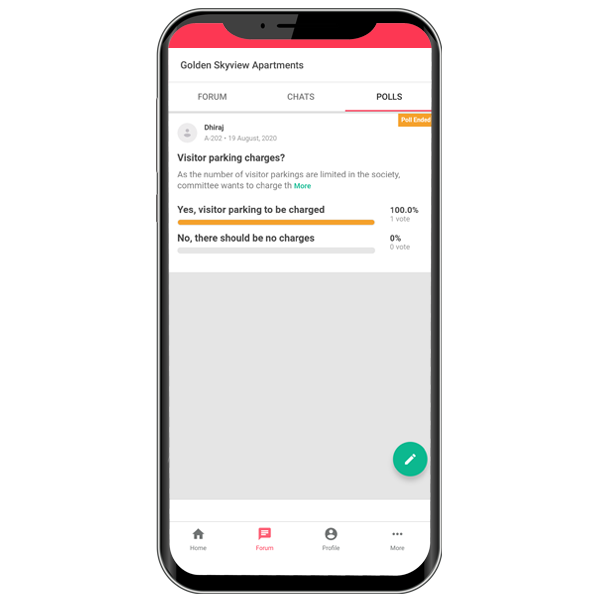 Do polls really help?
Polls have been used for years now, people love using polls because –
They are easy to create and give you a definite answer, unless there is a tie between the options provided (although this is rare).
Polls are a quick way to engage people, they don't take much time to answer or understand what is expected.
Privacy is maintained, so pollers can answer more honestly and you get more accurate results from your poll.
Polls can be for important things like getting feedback, asking for preferences, and even conducting research. Not all polls need to be serious, you can even have fun polls to lighten up the mood.
If you haven't tried the polling feature yet, just update your NoBrokerHood app and start polling! For more information on this feature, as well as other features, visit NoBrokerHood or drop us a comment bellow and we'll get back to you.