Enroll your society


Society Login


Enroll your society



Generating monthly society bills can be tasking, especially, if you still follow the manual billing practice.
To put an end to this tedious and time-consuming task, we at NoBrokerHood have introduced Auto Bill Generation to help you automate, streamline and scale up the process on a monthly, quarterly, and half-yearly basis.
Here's How You Can Use Auto Bill Generation
Log in to the NoBrokerHood admin dashboard,
Go to Financial Management on the left-side panel,
Click on the drop-down to find Billing feature under which you will see Bill Scheduler, click on it,
Now you are ready to schedule the bills to be generated.
To schedule new bills,
Click on +Add Bill Scheduler, on the right-hand corner of the dashboard.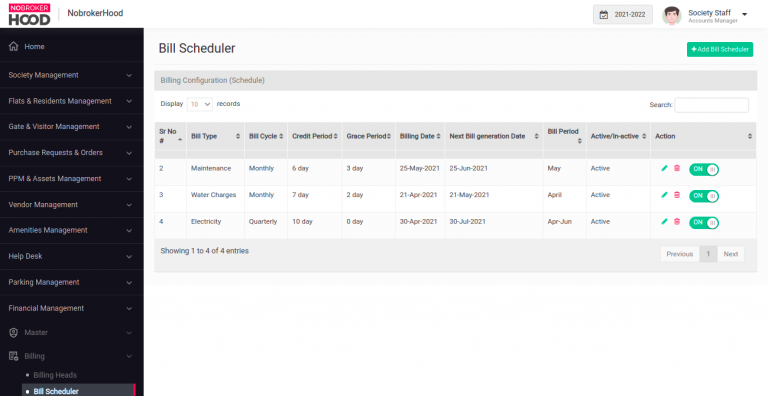 Fill in details such as 'Bill Type', 'Billing Cycle' (Monthly, Quarterly or Yearly), 'Bill Period', 'Credit Period', 'Grace Period' and so on.
You also have the option of 'Auto Approval'; select the box if you wish to generate and publish bills to all residents via scheduler (residents will be notified by email or SMS). If it is not selected, then bills will be created via scheduler and then the admin has to approve the bills manually.
Click on 'Save' to schedule the bill to be generated.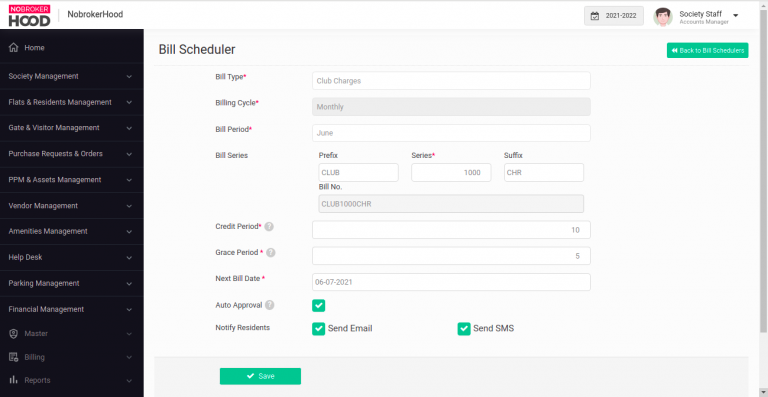 The newly created bill is now added on the Bill Scheduler page.
To view older scheduled bills, select 'Generate Bill' from the left side panel under 'Billing'.
You will find the 'Go To Bill Generation History' tab on the above right corner. This will land you on a page where you can view both the bills generated.
You also have the option to view bills of any type generated over previous years by selecting 'Bill Register' from the left panel under 'Billing'. It is a library of sorts of all the previous bills. You can also download them if you wish.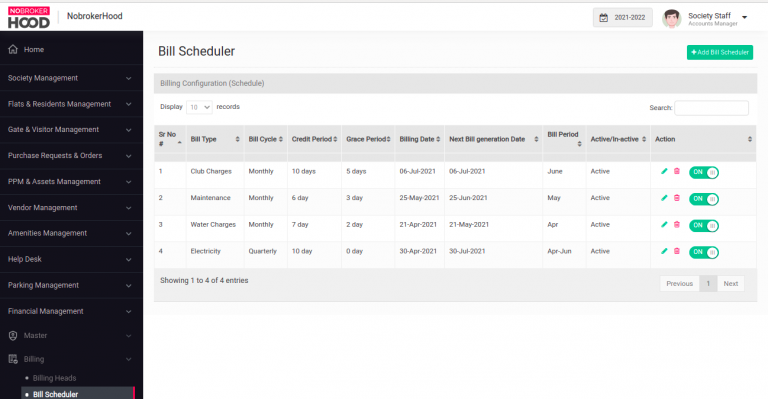 What are the benefits of Auto Bill Generation?
Saves one's time and effort.
Admin can either auto approve and auto post bills.
Admin receives reminder email 7 days before the bill is scheduled to be generated.
As an Admin, you have the option to send SMS and Email to residents while auto approving bills.
Auto Bill Generation streamlines the billing process and improves accuracy.
Admin can generate auto bills for the entire society at once.
Auto Bill Generation is a well-thought-of and designed feature to help society management committee tackle the issue of inaccuracies caused by human error. However, with NoBrokerHood's Auto Bill Generation, you can now sit back, relax, and generate society bills error-free and on time.
To know more about Auto Bill Generation, visit www.nobrokerhood.com and enrol your society for a FREE demo.