Enroll your society


Society Login


Enroll your society

Schedule and Book Amenities or Classes in Less Than 5 Steps!

Don't you just hate it when you go down to the badminton court just to find others playing? Or worse, that there is a queue of people waiting to play!
Or how about when you booked the Club House for an event, but find someone else using that space on the same day?
Have you signed up for classes in the society but always missed it? Or you don't even know about these classes?
We've all been there, it's frustrating and inconvenient when you have to deal with these small issues in a large building society. Luckily, NoBrokerHood is here to solve them. You can now book amenities or classes in just 4 simple steps using the NoBrokerHood app.
To book an amenity, here's what you need to do –
Open the NoBrokerHood app and click on 'Amenities and Classes'
Here, you'll find a list of all the amenities your building society has to offer you as a resident. This can include – swimming pool, basketball court, party hall, club house, squash court, sauna and more. Once you find an amenity that you want to use, just click 'Book'.
If you find that the swimming pool is most crowded in the evening, you can book a slot on any day or at a time when the pool is relatively empty. You can see what time slots are available and the time slots that are booked. This is especially helpful when you need to book the community hall or club house for events. You'll avoid double booking, overbooking, and confusion, by picking dates at times when the amenity is free and available for use.
After choosing the amenity that you want, and the slot that you want, all you have to do is click the 'Book' button. You'll instantly get a conformation message saying that your booking is successful. You will also get a reminder closer to the date and time of your booking.
If something comes up and you can't use the amenity you booked, then you can go to the 'My Bookings'  tab under the Amenities and Classes section. Here you can view all the amenities and classes you have booked. You can see the details and cancel your booking by clicking the 'Cancel' tab. If you want to reschedule, cancel and then go back to the amenities booking page to find a new date and time that is convenient for you.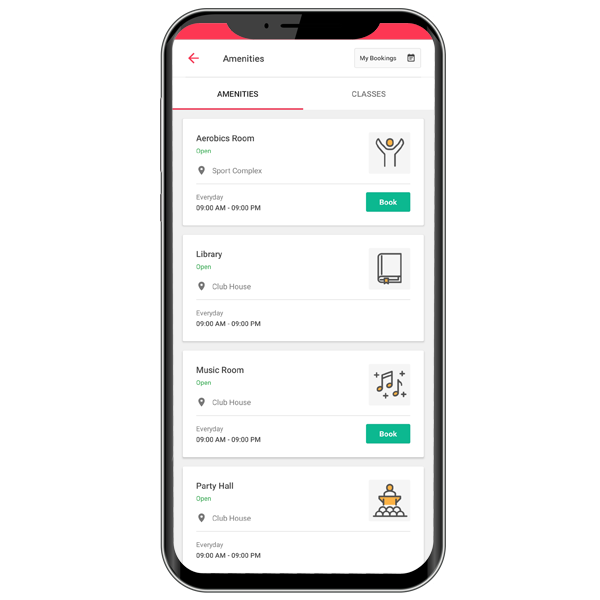 To book a class in your society, here's what you need to do –
Open the NoBrokerHood app and click on 'Amenities and Classes'
Do the same thing you would to book an amenity, the only difference is you'll click on the 'Classes' tab as soon as the page opens. You'll find all the classes that your society has such as Yoga, Dance, Karate and more. Found the class you want to sign up for? Click 'Subscribe'.
Confirm the class you want
If you're able to go for the class you chose, then click on 'Confirm' You will instantly get a confirmation notification on the app. You will also get an alert before the class starts so that you never miss a class.
How to unsubscribe and make changes
In the 'My Bookings' section go to 'Classes' here you will find the various classes you have signed up for. You can unsubscribe from here if you change your mind at any time.
The whole process of signing up for classes and booking amenities is very simple and takes less than a minute! If you have any questions or would like to share your experience using the app, just leave us a comment below. To get a demo of all the other ways NoBrokerHood can keep your society safe, just visit NoBrokerHood.