Enroll your society


Society Login


Enroll your society

NoBrokerHood Cooking Contest: Cook Up A Storm

This October, we are back with another fun event – this time, it is for all the little munchkins of NoBrokerHood family across all seven cities – Kolkata, Mumbai, Bengaluru, Delhi-NCR, Pune, Hyderabad, and Chennai.
We are hosting the first edition of NoBrokerHood's cooking contest – 'Cook Up A Storm' for children aged 5 to 12 years.
If your little ones love being innovative in the kitchen, this is the time to show off their culinary skills and dominate the kitchen.
The contest is simple, kids must pick only 3-ingredients, and prepare a dish using them as primary elements. The aim of the contest is to explore their creativity while they whip up something delicious for their family.  
After months of being at home, it's now time for children to have some fun beyond books and online classes.  
All the recipe entries we receive will be later compiled into a community cookbook and shared with all the participants. That's not all…there are exciting prizes waiting for the 5 winners!  
Participants can send their entries from October 17 until October 25. The winners will be announced on October 29, 2020.
So, is your kid ready to Cook Up A Storm?
Cooking Contest Rules:
The recipe should be original.
Participants must use only three ingredients.
While sharing the recipe, highlight the 3 primary ingredients used in the dish.
Winners will be chosen based on the recipe and photographs they share with us.
Participants must provide clear directions and stepwise instructions for the recipe.
Submit a high-resolution picture of the finished product. The photo should be original and not taken from the internet.
Failing to follow the above rules will result in disqualification.
Eligibility Criteria:
Participants should be between 5 to 12 years of age.
Participants should submit their Full Name, Age, Society Name and City (without which they will be disqualified).
Submit only one recipe per participant with the dish photograph and recipe.
Send your entries to events@nobrokerhood.com any time between October 17 to October 25, 2020.
Contact Us
About our Judge
Executive Chef Aditya Singh Bhadoria is our esteemed judge.
Chef Bhadoria started his culinary journey at 32nd Mile Stone, Apra Motels, Gurgaon and later moved to Rajputana Palace Sheraton, Jaipur. He worked as the Head Chef at Shiro, Bengaluru for 4.5 years, where he whipped up Pan-Asian cuisines.
For the last three years, he has been working as the Executive Chef at 1Q1 Kitchen & Bar, Bengaluru.
Apart from mastering in the Mediterranean, Lebanese and Continental cuisines, he is known to dish up mouth-watering Malaysian, Thai, Vietnamese, Japanese, Asian delicacies.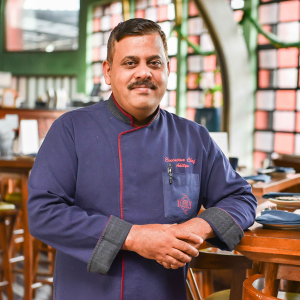 Here are the additional details of the contest:
Start date: October 17, 2020 
End date: October 25, 2020
Let your little master chefs gear up and take charge of the kitchen, and you can sit back and devour their specialities. It's going to be super fun. Trust us! 
You can comment below to reach out to us in case you have any queries about the cooking contest. We will be happy to help!