Enroll your society


Society Login


Enroll your society

What is the Covid-19 advisory for RWA all about?

Coronavirus is taking a never-ending turn. As the number of cases increase on a daily basis, the situation is not just uncertain but more people are now at the risk of the pandemic.
In an attempt to curtail the spread, the Ministry of Health and Family Welfare has laid down few guidelines for Resident Welfare Associations (RWA).
Given that the number of people infected by the virus in Karnataka is on an all-time high, this advisory will be helpful for gated residential complexes to take adequate precautions.
Signs and symptoms to watch out for
According to World Health Organisation (WHO), Covid-19 impacts different people in different ways. Most people infected with COVID-19 experiences mild to moderate respiratory illness but can recover without hospitalisation. Some of the common symptoms are dry cough, fever and tiredness. Sore throat, diarrhoea, loss of taste, skin rashes and headaches are other signs to look out for.
In a more serious condition, a person may experience difficulty in breathing, loss of speech and movement and feel a pressure on the chest.
It usually takes 6 to 14 days from when a person is infected to show any of the above symptoms.
In case, you are experiencing any such symptoms, seek immediate medical attention but always make a phone call to your visiting doctor or healthcare provider.
What does the Covid guideline for RWA say?
Any kind of mass/social gatherings such as birthdays and kitty parties are not allowed.
Thermal screening of any visitor entering the society by a trained person is a mandatory process. A person with flu-like symptoms or whose temperature is more than 99.5°F (37.5 °C) should be referred to the nearest fever clinic or hospital. You can also call the free helpline number 14410 and notify the local health department.
Social/Physical distancing (6 feet) must be strictly followed in all common areas and the same should be monitored through CCTV surveillance.
Use of face masks by every person stepping out of the society is compulsory; this also includes having access to hand sanitisers and hand wash facilities at the gate.
Encourage residents to use stairs instead of using lifts. Having said that, in any case, all the common areas, lift, railings and corridors should be disinfected frequently, using 1 percent of Sodium Hypochlorite solution.
Though the guideline allows the use of common areas such as parks and walk ways but under strict observation of physical distancing parameters. This, however, doesn't include gyms, sports centre, swimming pool and club house till further Government guidelines.
It is the duty of the RWA to ensure that all those who are advised home quarantine, must stay indoors in their homes and not move around anywhere in the society or in the city, casually.
Essentially, the seriousness of the pandemic has to be understood by every resident who is advised home quarantine; any breach can put other's lives at risk. The local health authorities must be notified, in case of any breach of quarantine rules.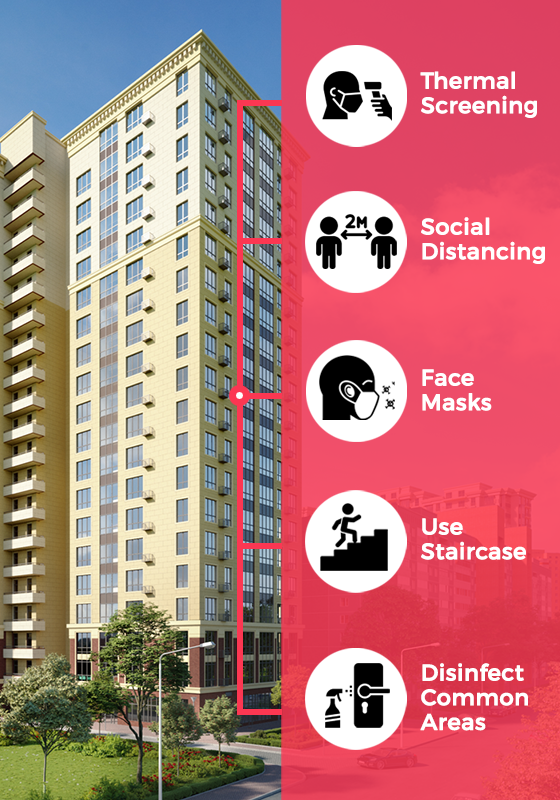 In case your society reports a positive case…
Cooperate with health authorities to take necessary action and control measures.
Encourage other residents to be compassionate towards the individual and the family. Avoid any kind of discrimination or stigma towards anyone who is tested positive or is advised home quarantine.
Make residents aware of the quarantine process and about the repercussion, they might face if it's breached.
Display the 'information education communication' material approved by the Government of Karnataka in your society
What you can do as an individual:
Always wear a face mask when stepping outside your home.
Maintaining personal hygiene is the key. Wash your hands frequently, cover your mouth and nose while coughing or sneezing with a tissue or handkerchief and thereafter dispose them safely, avoid touching common surfaces unnecessarily and practice physical distancing.
Be aware of your neighbour's health condition and provide necessary help if required. If you know about anyone else with a recent travel history, inform health authorities.
Subject yourself and your family to 14 days self-quarantine at home, if you have a travel history to other states and foreign countries during the last 7 to 14 days. In case, if you develop fever, cough, running nose, throat pain or difficulty in breathing, report a health official or RWA immediately. You can also call the free helpline number 14410.
Educate your domestic help and other staff about personal hygiene etiquettes. Tell them about the symptoms and advise them to visit healthcare service providers, in case, they develop any signs. In such cases, do not let them come to work until they are completely recovered.
Don't let your kids play outside in groups. The more they stay indoors, the safer they are. Tell them about the importance of social distancing and maintaining a healthy personal hygiene.
If you have children below 10 years, elderly people aged more than 60 years or differently-abled individuals at home, take special care of them.
How you can prepare your community to handle Covid-19 cases?
Given the surge in Covid-19 cases in the city, Bengaluru's health infrastructure is seemingly exhausted. As a responsible RWA you can consider the following to prepare your apartment complexes to handle Covi-19 cases:  
Encourage residents to self-report symptoms; facilitate their testing, isolation and quarantine process for their contacts. You can contact BBMP ward or zonal officers for further process.
Ensure the entire floor (in which the patient resides) and a floor above and below are isolated.
Get your building sanitised thoroughly. All this is usually done by BBMP but in case of any delay in response, RWA can take the necessary precaution. Get help of private channels for sanitisation.
The State government, after talks with RWAs and BBMP, has decided to allow RWAs (who have the required equipment/facilities/personnel) to create their own in-house Covid Care Centres for residents with mild or no symptoms.
Provide counselling, guidance and support to the affected individuals and the family. Educate residents to not discriminate or stigmatise the affected.
With an elaborate guideline like this, and a support and cooperation from residents, you can be rest assured to contain the virus in your gated community. 
Comment below to let us know your thoughts on the guidelines. Stay connected to www.nobrokerhood.in for more Covid-related blogs.