Owning a home in a residential complex or gated society comes with the mandatory responsibility of maintaining it. No one looks forward to shelling out that money as a long-term duty of taking the shared cost of maintenance means breaking the bank but also means never missing out on dates, keeping track of your bills and more. For a society manager as well, ensuring that all residents have paid their maintenance bills, making sure that the collection of the same is directed to the right account, and also coordinating with residents who are yet to pay, can be a daunting task. 
So, while we have covered what a society maintenance charge is, why it is necessary for homeowners to pay the same, and what are the different taxes, and elements included in the society maintenance charges in PART 1 of this blog, in this one, we will go over how easy it can be to pay it online. Even more, with India's favourite neighbourhood super-app NoBrokerHood, how paying your society maintenance charges with your phone can be profitable as well! Read on! 
You Can't Miss A Single Payment For Legal Reasons
While the role of social associations may vary from state to state, the supreme court judgement on society maintenance charges is clear. As per the RERA (Real Estate Regulatory Authority) Act of 2016, every 'allottee' or homeowner entering into an agreement is responsible for making the required maintenance payments within the specified time frame, as well as sharing the charges for amenities including registration, municipal services, water, electricity, and other charges. Read more about the RERA Act 2016 here – https://www.nobroker.in/blog/rera-bill/. 
In terms of you being charged for GST on society maintenance, you must also be well aware of the associated terms and conditions, as the maintenance charges serving as payment from residents to the RWA or Resident Welfare Association are exempt up to INR 7,500. If the amount levied is more significant than INR 7,500 every month for a particular resident, the GST is set on the entire amount. The other case where GST charges on society maintenance are applicable is when the total turnover of the Resident Welfare Association is INR 20 lakhs (or more) in a fiscal year. The TDS on society maintenance charges is also minimal, as, under the Income Tax Act of 1961, it typically is at the rate of 1% to 2% for the payment of maintenances in communal areas. 
The several maintenance charges according to varying state regulations and the hidden costs can be complicated for a layman. This is where the NoBrokerHood app can help you both generate invoices and make your maintenance payments as well as track and download all the society maintenance payments made in the past. 
Make Tracking And Managing Society Maintenance Payments Simple
Not only is maintenance bill payment simpler with the NoBrokerHood app, but it is also rewarding as on payment through the app, users can earn exciting prizes and cashback. The process of paying the same is similar for residents and society managers, as described step-by-step below:
Download, install and login to the NoBrokerHood app on your phone
Scroll down and click on the 'Payments' tab where you can pay 'Society bills and maintenance' charges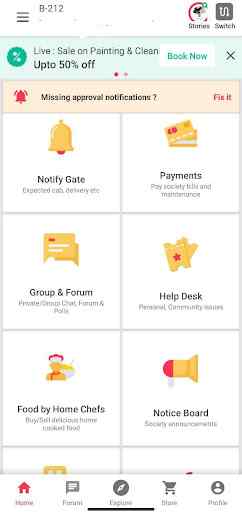 Here you will be able to both make your due payment under 'Dues', as well as see your past payments and invoices under 'Ledger', and even make advance payments under the 'Advanced' tab.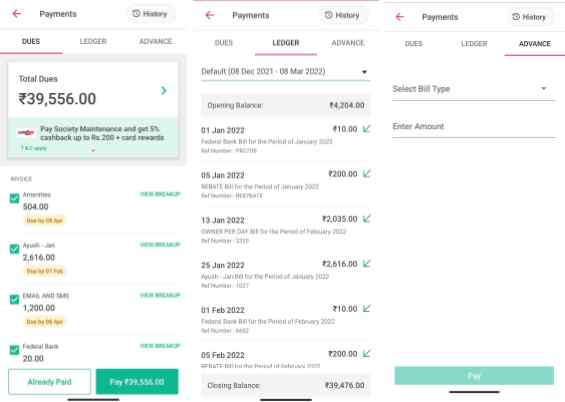 Under 'Dues' you can also view the breakup of the maintenance costs and download a copy of the same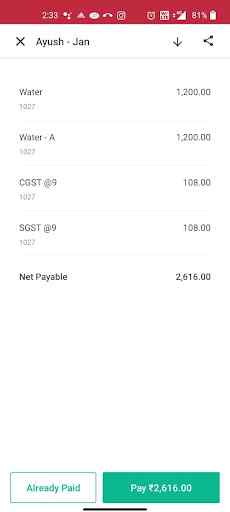 While paying your 'Total Dues' be sure to check out any offers on cash backs and credit card rewards you can earn. Here you are able to pay using UPI methods such as Google Pay, PhonePe, Paytm etc., credit cards, net banking and even e-wallets.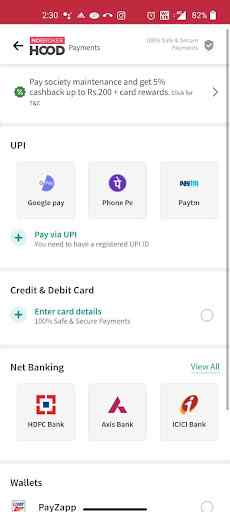 Under 'Ledger', you will be able to view and download each invoice of the bill done with set ranges from the last month, last 6 months, last financial year and even custom range.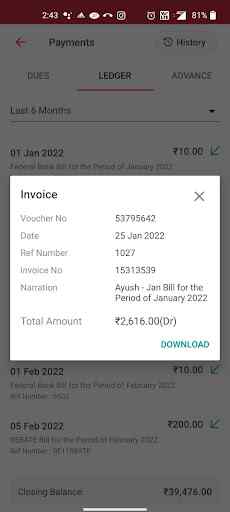 Never Miss A Single Payment With E-Alerts!
You can also set up instant email alerts every time a new invoice is being generated and paid for. The complete format of the invoice looks like something below: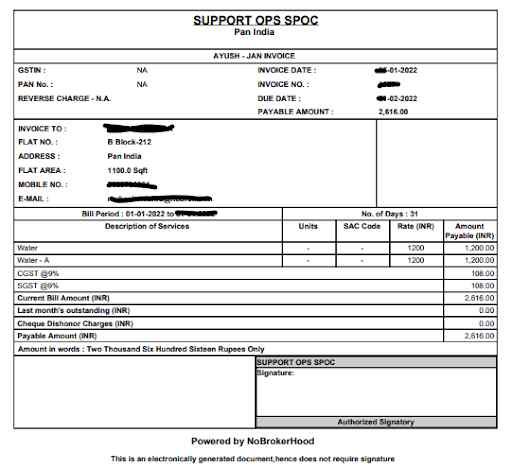 Along with your due notices and invoice alerts, you will get any new guidelines being introduced for the society such as the COVID-19 pandemic or any maintenance work being done on a particular day so that the work happening for your maintenance charges also shows.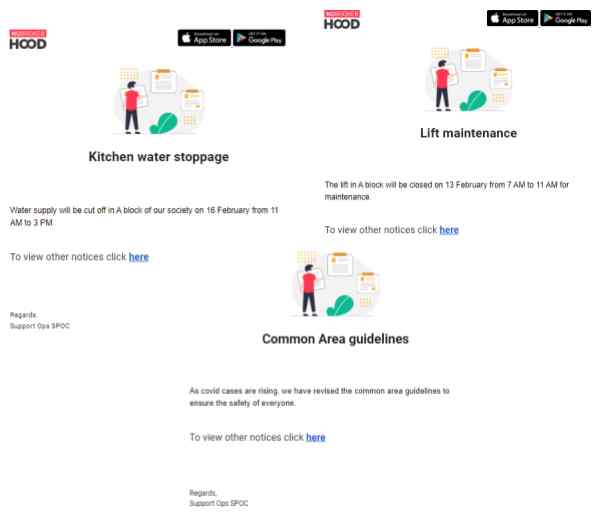 Essentially, there is nothing you will miss while making payments with the NoBrokerHood app. Not only is it a single repository for all your society maintenance payments, but also a place where you can see tangible action being taken for the money you pay – all without ever having to step out of your home.  So, what are you waiting for? 
Download India's favourite neighbourhood Super App from the Google Play Store or the Apple App Store now!
FAQ's
1. What is the society maintenance charge?
Ans. The society maintenance charge is imposed on a homeowner due to management, repair, and upkeep of the communal amenities such as water, electricity, elevators, gym, parking, property tax etc. within the apartment complex or cooperative society.
2. Can society maintenance be paid in cash?
Ans. Society maintenance bills can be paid in cash, but it is especially important to keep a track of the receipts of transactions done, regardless of being online or offline.
3. How do reduce society maintenance charges?
Ans. Society maintenance charges vary from state to state, depending on the size of the apartment units as well as the number of amenities provided within the apartment complex.
4. How to pay society maintenance bills online?
Ans. It is quite easy to pay society maintenance bills online through either payment gateways or even society management apps that help pay using UPI, Net Banking, Credit/Debit Cards etc.
5. Is paying society maintenance bills mandatory?
Ans. Yes, under the RERA Act 2016, the payment of the maintenance of the society is mandatory for homeowners within the society.